Copper Re-Piping Pex Re-Piping Services !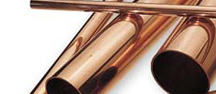 Miracle Rooter Plumbing specializes in U.S.A. Type "L" Hard Copper and PEX re-piping. Our crews are experienced on how to lay out the job, order parts, install, and inspect the re-piping process. We have expert patching crews in house. We at Miracle Rooter Plumbing do the repiping ourselves and we don't use sub contractors.
If you experience rusty water or other corrosion problems with your home's water supply, there's a good chance that your home could benefit from a copper repipe. If you're considering such an option in the Los Angeles area, you can rely on Miracle Rooter Plumbing to help you with a level of service that is second-to-none.
Washing your hands under a faucet that gives you only a drip of water or getting showered with only enough water to rinse off your soapy lather is a real frustration.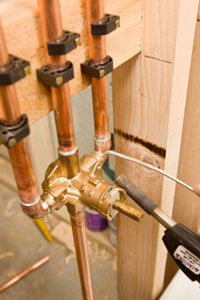 Replacing all of the existing hot and cold galvanized pipes in a building, whether private house, condominium, commercial building or apartment complex, with copper repipe is the better technique to solving your water problems.
Why do you need copper or pex repiping?
Why does your home have low water pressure? As galvanized pipes grow old, rust and decay build up within the pipe, constricting the flow of water. As less water is able to flow from your pipes, it becomes difficult to run multiple fixture at a time and ultimately impossible to run even a single faucet, much less a shower or dishwasher. At the same time that your water flow is decreased, the rust buildup inside the pipes mingles together with the water that you re utilizing to shower with, wash dishes with or drink. Not healthy or tasty, that's without a doubt. If you overlook your low water pressure trouble, the rust will eventually eat through your galvanized pipes and you will be facing total water pressure failure and enormous water damage and mold from leaky pipes. Copper repiping is the answer these issues.
Call us today and let one of our plumbing managers give you a free in home estimate, and show you how we can re-pipe your home or building the right way, and for less money - guaranteed!